Manetti Gold Leaf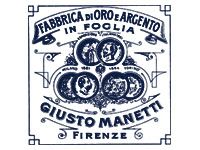 Click here to see Products by Manetti.
The Manetti family has been running the Battiloro business since 1600. In Florence, fifteen generations have produced real gold and silver leaf of the highest quality, following the ancient methods and traditions, but using some of the most cutting-edge structures and technologies in the world. Research and development, tradition and work ethic are the secrets of the Manetti trademark's success, a trademark founded in 1820 by Luigi Manetti. Manetti was one of the first to export real 'Made in Italy' gold leaf all over the world. Now it is the market leader. Manetti works with the most important architects, gilders, restorers, museums, religious institutions and more recently with chefs and cosmetic companies. From Paris to Hong Kong, by way of New York, London and Moscow, Manetti gold shines on the most important ancient and modern monuments in the world.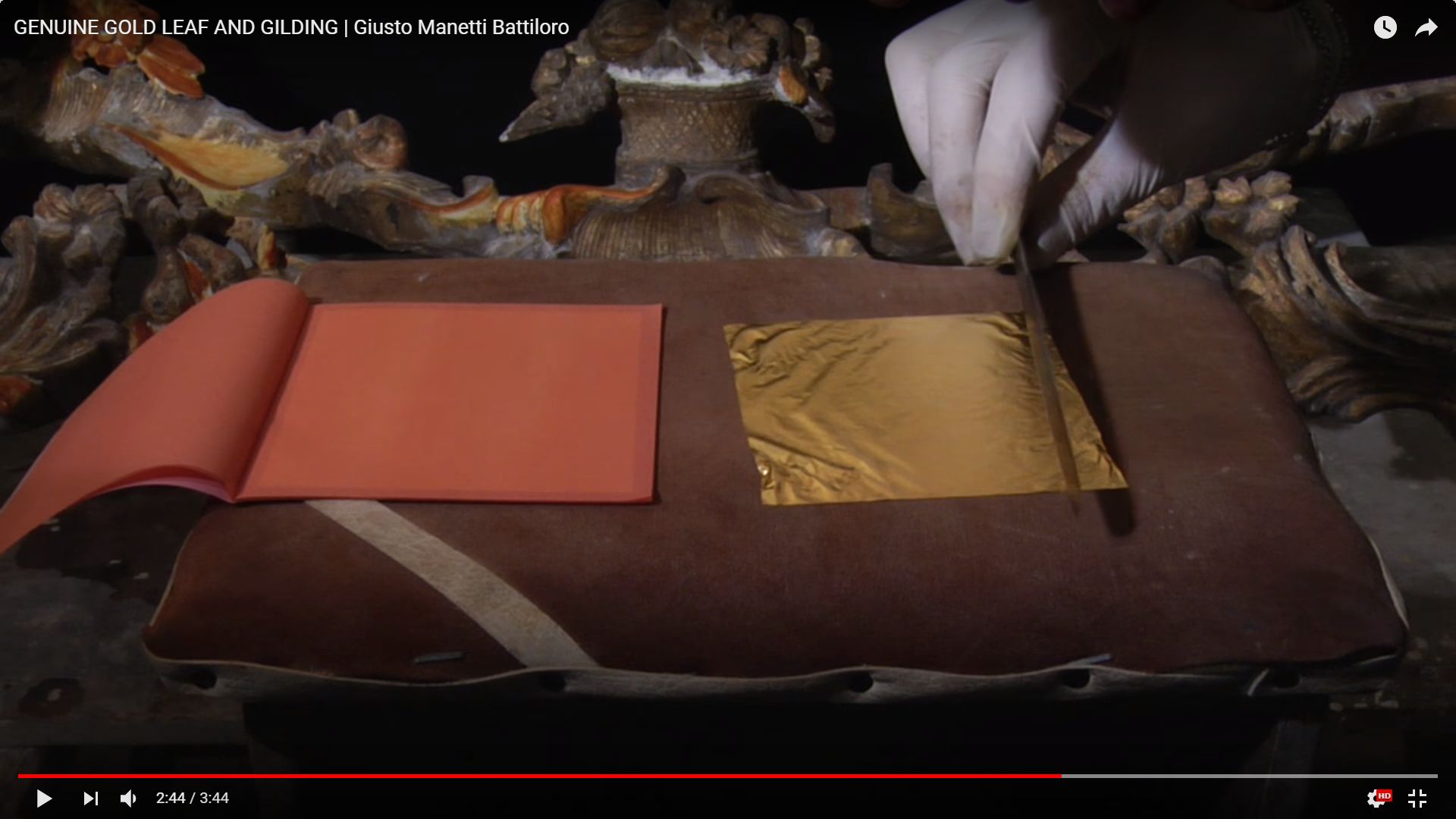 Loose Leaf / Surface Leaf
A book of loose leaf is assembled by placing each piece of leaf between pieces of thin rouged paper. The Gilder can then remove one leaf at a time without distributing the remaining leaves. It is removed from the book with a gilder's tip, a flat natural-hair brush. Each booklet contains 25 leaves and comes in packs of 20 books for a total of 500 leaves. Leaves are available in different measurements and thicknesses. Loose leaf can be applied with water or oil gilding techniques and is ideal for restoration and detailed surfaces.
Patent Leaf / Transfer Leaf
Patent gold leaf, also referred to as transfer leaf, is gold mounted to special tissue paper by a pressure process. A book of patent gold leaf is assembled by placing each unit of gold leaf and tissue between pieces of thin rouged paper. The gilder can then remove one leaf at a time without distributing the remaining leaves. Patent gold leaf is removed from the book without the aid of a gilder's tip. The leaf will stay on the tissue until it is pressed onto the prepared surface and the tissue backing is removed. This form of gold leaf is necessary for outdoor work or where conditions would make loose leaf unmanageable. Patent gold leaf is not suitable for water gilding and is best suited for flat surfaces.
Patent gold leaf is sensitive to changes in temperature and humidity and needs to be stored properly. Store patent leaf in a damp environment of about 80% humidity wrapped in plastic wrap. This helps to prevent the moisture content of the tissue paper from fluctuating. Patent leaf may become loose on the tissue paper if stored in a dry warm environment. To correct this problem, the book of patent leaf needs to be stored in a humid environment under pressure to "remount" the leaf to the paper. If the leaf were stored in a very hot and humid environment, the leaf may adhere too tightly to the paper. To correct this problem, store the patent leaf in a refrigerator or a dry cool place.
Ribbon Leaf
Standard Manetti master rolls are approximately 67 feet in length and cover approximately 22 square feet without waste or overlap. Any width rolls up to 100 mm can be cut from master rolls on special order. Paraffin wax is used in the process of manufacturing Manetti rolls. The applied leaf must be cleaned prior to coating with a water-based acrylic to remove any residue. Most oil-based or solvent-based sealers do not require special surface preparation.