Abalone Shell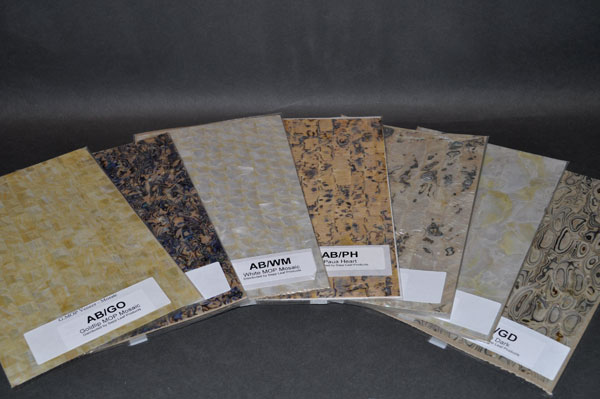 Abalone shell - Beautiful, translucent, natural Abalone specially prepared in sheets 5-1/2" x 9-1/2". This is the highest grade Abalone available to the sign artist for that special letter center or accent. Dozens of other uses for the eleven different varieties SeppLeaf has to offer.
Abalone shell veneers are made from thinly sliced pieces of shell, glued together and sanded flat to form continuous sheets. This material is mainly used for surface overlays and inlays. Abalone lends itself to many applications including architectural surfaces, lighting fixtures, signs, furniture, musical instruments, jewelry, and many more decorative projects.
The sheets are flexible and can be bent to a great degree especially when coated with a flexible resin or aliphatic polyurethane. Since the material is very thin, it has a high level of transparency allowing light to pass through, adding to its decorative effect when used on glass. For surface mounting, it is best to paint the back side of veneers to control their appearance.
Shell veneers can be easily cut with a sharp knife or scissors. It may be helpful to soak in water overnight prior to cutting. When cut with scissors it is advisable to apply adhesive tape to the top side to hold the material together and later remove when the material is fixed to the surface, alternatively it can be coated with resin or spray. Shell veneers can also be cut using various types of cutting machines such as with a laser or water jet.
Warning: Avoid breathing dust from cutting, trimming or sanding. Use appropriate dust protection when working with material. Wash hands and tools thoroughly after use.
Abalone, Agoya Veneer, 5.5" x 9.45" Sheet

AB-AG • Australia

---

5.5" x 9.45" sheet

Abalone shell - Beautiful, translucent, natural Abalone specially prepared in sheets 5-1/2" x 9-1/2". This is the highest grade Abalone available to the sign artist for that special letter center or accent. Color and pattern can vary from batch to batch.

Add to Quote Basket
Abalone, Donkey Ear AB Veneer, 5.5" x 9.45" Sheet

AB-DE • Sheet • Australia

---

Abalone shell - Beautiful, translucent, natural Abalone specially prepared in sheets 5-1/2" x 9-1/2". This is the highest grade Abalone available to the sign artist for that special letter center or accent. Color and pattern can vary from batch to batch.

Add to Quote Basket
Abalone, Gold Mop Veneer, 5.5" X 9.45" Sheet

AB-GM • Sheet • Australia

---

Abalone shell - Beautiful, translucent, natural Abalone specially prepared in sheets 5-1/2" x 9-1/2". This is the highest grade Abalone available to the sign artist for that special letter center or accent. Color and pattern can vary from batch to batch.

Add to Quote Basket
Abalone, Green AB Dark Veneer, 5.5" x 9.45" Sheet

AB-GD • Sheet • Australia

---

Abalone shell - Beautiful, translucent, natural Abalone specially prepared in sheets 5-1/2" x 9-1/2". This is the highest grade Abalone available to the sign artist for that special letter center or accent. Color and pattern can vary from batch to batch.

Add to Quote Basket
Abalone, Green AB Light Veneer, 5.5" x 9.45" Sheet

AB-GL • Sheet • Australia

---

Abalone shell - Beautiful, translucent, natural Abalone specially prepared in sheets 5-1/2" x 9-1/2". This is the highest grade Abalone available to the sign artist for that special letter center or accent. Color and pattern can vary from batch to batch.

Add to Quote Basket
Abalone, Greenlip AB Veneer, 5.5" x 9.45" Sheet

AB-GP • Sheet • Australia

---

Abalone shell - Beautiful, translucent, natural Abalone specially prepared in sheets 5-1/2" x 9-1/2". This is the highest grade Abalone available to the sign artist for that special letter center or accent. Color and pattern can vary from batch to batch.

Add to Quote Basket
Abalone, Paua Dark Veneer, 5.5" x 9.45" Sheet

AB-PD • Sheet • Australia

---

Abalone shell - Beautiful, translucent, natural Abalone specially prepared in sheets 5-1/2" x 9-1/2". This is the highest grade Abalone available to the sign artist for that special letter center or accent. Color and pattern can vary from batch to batch.

Add to Quote Basket
Abalone, Paua Heart Veneer, 5.5" x 9.45" Sheet

AB-PH • Sheet • Australia

---

Abalone shell - Beautiful, translucent, natural Abalone specially prepared in sheets 5-1/2" x 9-1/2". This is the highest grade Abalone available to the sign artist for that special letter center or accent. Color and pattern can vary from batch to batch.

Add to Quote Basket
Abalone, Pink Veneer, 5.5" x 9.45" Sheet

AB-PA • Sheet • Australia

---

Abalone shell - Beautiful, translucent, natural Abalone specially prepared in sheets 5-1/2" x 9-1/2". This is the highest grade Abalone available to the sign artist for that special letter center or accent. Color and pattern can vary from batch to batch.

Add to Quote Basket
Abalone Green AB Heart Veneer, 5.5" x 9.45" Sheet

AB-GH • Sheet • Australia

---

Abalone shell - Beautiful, translucent, natural Abalone specially prepared in sheets 5-1/2" x 9-1/2". This is the highest grade Abalone available to the sign artist for that special letter center or accent. Color and pattern can vary from batch to batch.

Add to Quote Basket