Gold Leaf packaged in roll form is also referred to as Ribbon Leaf. Leaves of loose gold leaf are placed onto a continuous length of lightweight paper with slight overlaps. Ribbon gold is not patent leaf. Unlike patent leaf which is pressed onto tissue paper, ribbon leaf is adhered to the paper by the use of wax during the rolling process. Ribbon leaf is intended for use with oil or a synthetic size on flat surfaces. The paper backing prevents the leaf from reaching into ornate crevices or recesses.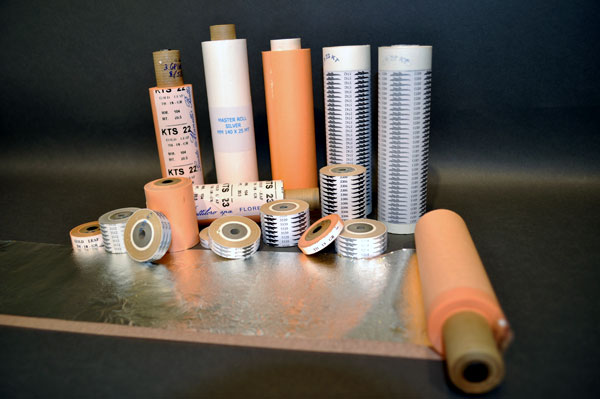 Standard gold master rolls are 104 mm (4-1/8 inch) width and approximately 67 feet long. The rolls are made by placing 4-1/8 inch square leaves onto a continuous length of paper with a 2 mm overlap. Ribbon gold leaf is sensitive to changes in temperature and humidity and needs to be stored properly. The leaf may become loose n the paper if stored in a dry, warm environment. If the leaf was stored in a very hot and humid environment, the leaf may adhere too tightly to the paper.
Store ribbon leaf at a normal room temperature and humidity. To prevent the moisture content of the rolled paper from fluctuating during extended-length storage, wrap the roll in plastic wrap or use a sealable plastic bag.
Below are complete product descriptions, handy conversion tables and helpful hints.
Obtain pricing by adding items to the Quote Basket, calling or emailing SeppLeaf Products for a quotation.